Monday, February 28th, 2011
Friday's 13.78 point gain in the S&P 500 was not as impressive as it appeared at first blush. Large market participants, such as hedge funds and pensions, were not as interested as John Q. Public, as evidenced by the 23% drop in trading volume compared to Thursday's down session. In terms of strategy, our stance has changed little since Friday morning. As we describe later, we need to see some more from this market before shifting from a short-to-intermediate-term defensive bias.
Warren Buffet's annual letter to shareholders was released on Saturday. Since they deal in a wide variety of products and services, from GEICO insurance to Fruit of the Loom underwear, Berkshire Hathaway's management team has a rare seat in which to view happenings in the global economy. The gloom and doom crowd may find it odd that Mr. Buffett wrote "our elephant gun has been reloaded, and my trigger finger is itchy," meaning he is ready to buy more businesses. His letter to shareholders also included some optimistic statements that do not align with the "new normal" crowd. According to Buffet, "there is an abundance" of opportunity in America and our "best days lie ahead." Today's Wall Street Journal has more on Buffet's letter.
In terms of investing, the news from Berkshire Hathaway aligns well with the longer-term outlook for stocks, in that we remain firmly in a bull market despite the current bout of short-term weakness. The CCM Bull Market Sustainability Index (BMSI) remains elevated and contributes to our current stance of being patient with cash and willing to reduce risk further if needed.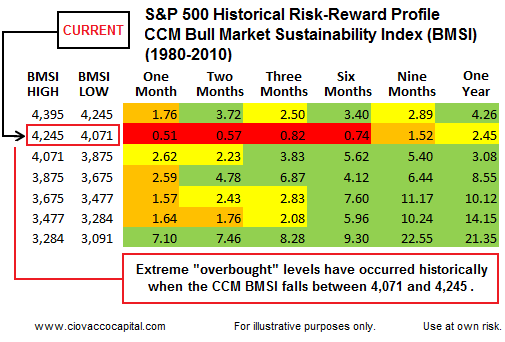 When the market finds some better footing, we will take a look at these ETFs as possible buy candidates: XLE (energy), IEZ (oil equipment), RJA (agriculture), XLB (materials), and IYR (REITS). These areas of the market have held up well, in relative terms, during the recent pullback. Below, we provide two examples of reasons to remain patient with cash - if this market is going to move higher, the technical indicators below will respond; until they do, there is not big rush to run back toward risk.