Tuesday, August 31st, 2010
The only positive from yesterday's otherwise bearish outcome was volume was light relative to Friday's volume, which does not fit recent patterns of high volume on down days. Breadth was poor and a selloff at the close is not indicative of institutional confidence.
As shown in the chart below, the 75-week (blue line), 80-week (red line), and 90-week (green line) moving averages (MAs) have acted as both support (green arrows) and resistance (red arrow) in the past. During the 2003-2007 bull market these moving averages, for the most part, held during all corrections. The slopes of all three MAs are currently positive, which leans bullish rather than bearish. The MAs stand at 1,049, 1,030, and 1,011. Breaking them on an intraweek basis is in line with past corrections (2002-2007). A break, especially a clear break, on a weekly closing basis would add to our bearish concerns. These MAs, along with the CCM BMSI, tell us some continued patience is in order the short-to-intermediate term. The CCM BMSI closed yesterday at 377, leaving us with a weak market that historically (1980-2010) has favorable odds in terms of being able to stage a rally over the next four to nine weeks. The markets remain fragile and need to be monitored very closely, understanding how the Fed fits into the picture.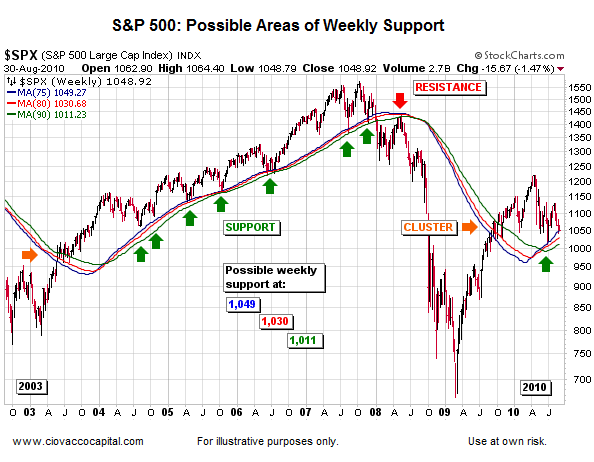 The Fed meets on September 21, 2010. If markets and economic data remain weak over the next three weeks, we believe the Fed will announce more plans for quantitative easing (buying bonds with printed money). We are working on an article covering what we believe is a flawed interpretation of quantitative easing by many market participants. Many believe quantitative easing will have little or no effect on asset prices. If you understand how quantitative easing works in the real world, it is easy to see how it can and most likely will impact asset prices in the coming weeks and months. Going to 100% cash in the next few weeks may prove to be a frustrating experience if the Fed cranks up the printing presses as we expect.