We manage money for individuals and business owners. Below are descriptions of our household minimum investment level, client fee structure, and possible next steps for prospective clients (see flow chart).
Example: If you have an IRA worth $350K and a taxable account worth $110K, for a total of $460K, you would meet the household minimum of $450K.
Reasonable Fees - An Excellent Value: Our typical client with a moderate growth objective pays between 0.6% and 0.85% of their account value annually in management fees to our firm. That means you need to improve over your current annual returns by roughly 0.6% to 0.85% to justify our fees or break even. In a difficult investment environment, this range of fees is very reasonable for global-macro, professional advice each year.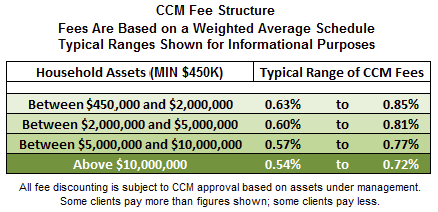 Fee Discounts / Asset Thresholds
Clients with household accounts over $2,000,000 may be eligible for a 5% reduction in fees.

Clients with household accounts over $5,000,000 may be eligible for a 10% reduction in fees.

Clients with household accounts over $10,000,000 may be eligible for a 15% reduction in fees.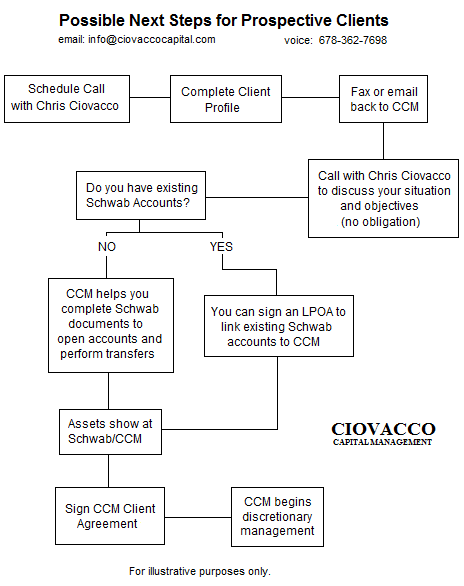 "Win-Win" Fee Structure
Our management fees are based solely on the value of your account. As a result, our only objective is to see your account grow.
We are also highly motivated to avoid poor performance. If you are interested in learning more, email or call Chris Ciovacco (see below) with the following information: (a) your name, (b) a good time to reach you (or a preferred window: am/pm/day of the week), (c) your email address, and/or (d) your phone number. We can schedule a no cost, no obligation meeting or conference call so you can learn more about possibly working together.

or call Chris Ciovacco directly at:

Household Calculation - Minimum Investment Of $450K
Household account values are calculated based on the total value of all household assets (sum of all household accounts) managed by CCM. Corporate accounts under the direction of an individual or authorized officer are included in the household account calculation.
Trusted Custodian For Your Assets
Schwab Institutional, a division of Charles Schwab, is a leading provider of custodial, operational and trading support for independent investment advisors. Using Schwab as primary custodian, Ciovacco Capital Management, LLC has access to a wide range of products and support to help investors reach their financial goals, including:
Full range of investment strategies and trading services

Wealth management services

Technology and service support

Safeguards designed to protect assets

Strict ethical business practices
Nationwide Service: With the Internet, email, fax, FedEx, and phones, we service clients nationwide. You are looking for the best money manager to meet your needs, not just the best manager in your local area. Every step of the process described below can be done via conference calls, emails, etc. Call or email now to find out more.
If you compare our rates to typical hedge fund fees, you will begin to realize what a good value this represents.
Ciovacco Capital Management, LLC ("CCM") is a Registered Investment Advisor pursuant to the Investment Advisers Act of 1940. The following information is provided in order to respond to the questions set forth in Part II of Form ADV, the form which investment advisors use to register with the Securities and Exchange Commission and/or individual states. While Form ADV Part II may not flow well as a document in terms of readability (since it follows a specified format), it does provide important information for both current CCM clients and prospective CCM clients, such as advisory services and fees, types of clients, methods of analysis, education and business standards, conditions for managing accounts, investment discretion, etc. Click here to view CCM's Form ADV Part 2 (opens PDF file)
---
* = Subject to registration requirements.
** Rates subject to change based on portfolio weightings. Rate shown above is based on our Model Growth Portfolio as of November 2006. Your actual rate may be higher or lower based on your individual investment needs.
***Clients also pay trading costs and transaction fees. Stated actual returns include all fees.
Ciovacco Capital Management, LLC ("CCM"), is a Registered Investment Advisor pursuant to the Investment Advisers Act of 1940.
Click here to view the firm's ADV Part 2.
These materials have been independently produced by Ciovacco Capital Management, LLC. Ciovacco Capital Management, LLC is independent of, and has no affiliation with, Charles Schwab & Co., Inc. (Schwab) or Charles Schwab Bank. Schwab has not created, supplied, licensed, endorsed, or otherwise sanctioned these materials nor has Charles Schwab & Co., Inc. conducted any independent verification of the facts and representations underlying these materials.