Home
CCM Master:
Portfolio Models:
Submodels:

As independent money managers, we provide long-term wealth & estate preservation strategies and prudent investment advice in a challenging environment for investors. If you are looking for an asset manager or money manager who takes the time to understand your personal situation, Ciovacco Capital Management may be a good fit for you.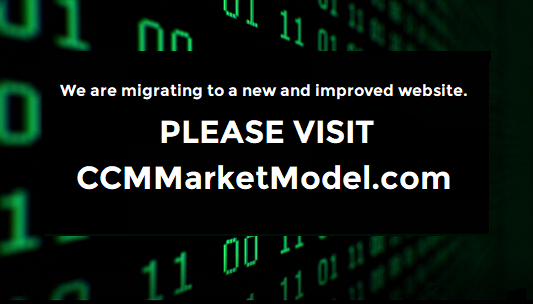 Trend Following Systems
The CCM Market Model was developed by studying markets and asking questions, such as:
What could have helped us identify the stock market peak in October 2007?
What could have helped us identify the stock market bottom in March 2009?
Are there market profiles that are unique to bull markets?
Are there market profiles that are unique to bear markets?
How do we discern between normal volatility within the context of a healthy uptrend and volatility that requires defensive action?
When you begin to develop an unbiased system, based on quantifiable and observable evidence, to answer the questions above, you begin to build elements of what is known as a trend following system. The CCM Market Model uses trend following principles, along with several other time-tested methods.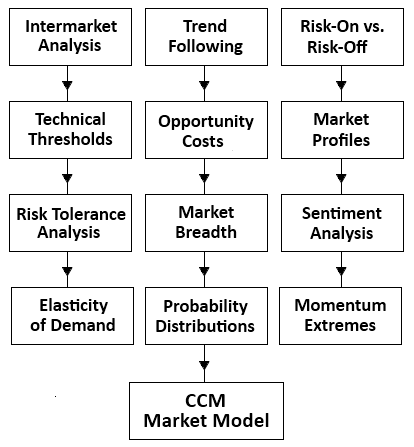 Trend Following Strategies

Once you begin to develop models based on what is happening, the next logical questions are:
Is this market, ratio, time frame, or indicator helpful?
Does it help us stay in line with profitable trends?
How helpful is it relative to other indicators?
The questions above can be answered objectively by studying long-term correlations between what you are tracking (market, ratio, indicator, etc.) and the S&P 500. If the correlations are meaningful, you keep the objective measure; if not, you remove it from your trend following system. The CCM market model weights each objective measure based on its correlation to the stock market and its impact on producing favorable returns with acceptable portfolio drawdowns.
Trend Following Trades
As a trend following manager, our market model must answer three major questions for our clients:
What is a prudent mix between growth-related and conservative assets?
What are the most attractive growth-related investments?
What are the most attractive conservative investments?
The model answers the questions above in an unbiased and unemotional manner, using prudently designed rules. The market model uses the answers to identify trend following trades. Our backtested results prove that the trade-off between average annual return and maximum portfolio drawdowns can be improved incrementally by including the answers to questions 1, 2, and 3 above in our trend following model.
Trend Following Investment Strategy
A well-designed trend following strategy should pass the �that makes sense� test. For example,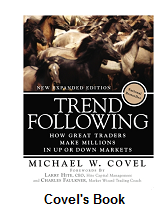 the CCM trend following model tracks numerous risk-on vs. risk-off ratios. One example is tracking the performance of stocks relative to bonds. It is logical and easy to understand that the ratio of stocks-to-bonds rises when demand for stocks is greater than the demand for bonds. Conversely, when fear increases, the ratio begins to fall as the demand for stocks begins to wane relative to the demand for more conservative bonds.
Trend Following Model
While primarily a trend following model, the CCM market model also incorporates other logical concepts based on how markets set asset prices, such as technical thresholds and market profile probability distributions. The master market model leverages the concept of redundancy to reduce the probability of curve fitting. The model uses five separate submodels that all suggest a prudent allocation between growth-oriented and conservative assets.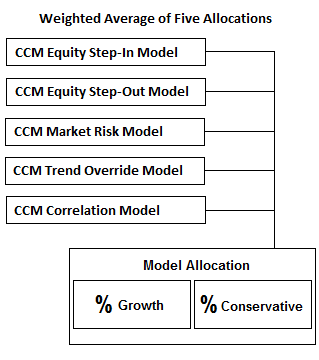 Two of the submodels, the CCM equity step-in and CCM equity step-out models, are based on the concept of technical thresholds, which is simply another way to monitor stock market trends. Using a real-world example, it is mathematically and physically impossible for temperature to move from 14 degrees to 98 degrees without crossing the thresholds of 25, 50, and 75 as weather conditions improve. Similarly, for an investment to make money, it must trend (it has to go up). Our trend following models track mathematical and physical events that have to occur as a profitable trend begins to form.
Trend Following Investment Strategies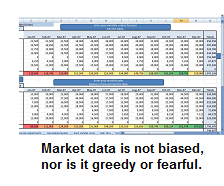 If you spend any time watching financial networks or reading financial articles online, you know there are a lot of people that know �stuff that works� in the markets. The key is converting stuff that works into a trend following investment strategy that can be converted into a useable and implementable form. For example, many of us know healthy markets tend to stay above their 200-day moving average. The questions are:
Do you have a way to track it?
Do you have a trend following system that converts that information into specific implementation guidelines or rules?
Trend Following Managers
The concept of trend following is not new. Trend following investment managers have been producing for institutional clients consistently since the early 1970s. Unlike, Ciovacco Capital Management, the vast majority of trend following firms have extremely high investment minimums. The CCM trend following model was designed for individual investors. We can use our trend following strategy to manage your investments and do it using a very reasonable fee structure.
Trend Following Book
Trend Following
by Micheal Covel is an excellent source to learn more about trend following strategies. Below are some excerpts from Mr. Covel�s book:
---
"While a fundamental analyst may be able to properly evaluate the economics underlying a stock, I do not believe they can predict how the masses will process this same information. Ultimately, it is the dollar-weighted collective opinion of all market participants that determines whether a stock goes up or down. This consensus is revealed by analyzing price."

Mark Abraham, Quantitative Capital Management, L.P.
---
"There is another type of technical analysis that neither predicts nor forecasts. This type is based on price. Trend followers form the group of technical traders that use this type of analysis. Instead of trying to predict a market direction, their strategy is to react to the market's movements whenever they occur. Trend followers respond to what has happened rather than anticipating what will happen. They strive to keep their strategies based on statistically validated trading rules. This enables them to focus on the market and not get emotionally involved."

Michael Covel
---
"JWH believes that an investment strategy can only be as successful as the discipline of the manager to adhere to the requirements in the face of market adversity. Unlike discretionary traders, whose decisions may be subject to behavioral biases, JWH practices a disciplined investment process."

John Henry of John W. Henry & Company, Inc.
---
"Mechanical trading, used by trend followers, is based on an objective and automated set of rules. The rules are derived from their market view or philosophy. Traders rigidly follow these trading rules to get themselves in and out of the market. A mechanical trading system makes life easier by working to eliminate emotion from trading decisions and forcing you stick to the rules. It enforces discipline."

Michael Covel
---
"Unlike discretionary traders, whose decisions may be subject to behavioral biases, JWH practices a disciplined investment process. By quantifying the circumstances under which key investment decisions are made, the JWH methodology offers investors a consistent approach to markets, unswayed by judgmental bias"

John Henry of John W. Henry & Company, Inc.
---
"Markets go up, down, and sideways. They trend. They flow. They surprise. No one can forecast a trend's beginning or end until it becomes a matter of record, just like the weather. However, if your trading strategy is designed to adapt to change, you can take advantage of the changes to make money"

Michael Covel
---
"If you take emotion - would be, could be, should be - out of it, and look at what is, and quantify it, I think you have a big advantage over most human beings."

John Henry of John W. Henry & Company, Inc.
---
"Price must go either up, down, or sideways. No advances in technology, leaps of modern science, or radical shifts in perception will alter this fact."

Michael Covel
---
Additional Resources:

---
Chris Ciovacco is the Chief Investment Officer for Ciovacco Capital Management, LLC. More on the web at www.ciovaccocapital.com

Terms of Use. The performance information presented in certain charts or tables represent backtested performance from December 31, 2002 to the period ending date shown, using the model to select ETFs and to rebalance the portfolio. Backtested performance is hypothetical (it does not reflect trading in actual accounts) and is provided for informational purposes only to indicate historical performance had the model portfolios been available over the relevant time period. CCM did not offer the model portfolios until July 2013. Backtested performance does not represent actual performance and should not be interpreted as an indication of such performance. Backtested performance results have inherent limitations, some of which are described herein. Backtested returns do not represent the performance results of actual trading and are calculated through the retroactive application of the Adviser�s model portfolio configuration, designed with the benefit of hindsight. Since backtested performance results do not represent actual trading, they may not reflect the impact that material economic and market factors might have had on the decision-making of the Adviser, if the Adviser was actually managing the client assets. No representation is being made that the Adviser�s strategy will or is likely to achieve profits or losses similar to those shown. In fact, there are frequently significant material differences between back-tested performance results and performance results subsequently achieved by following a particular strategy. In addition, backtested performance does not involve financial risk, and no hypothetical trading record can completely account for the impact of financial risk in actual trading. For example, the ability to withstand losses or adhere to a particular trading program in spite of trading losses are material points which can also adversely affect actual trading results. There are numerous other factors related to the markets in general or to the implementation of any specific trading program which cannot be fully accounted for in the preparation of backtested performance results and all of which can adversely affect actual trading results. The back-tested performance results shown reflect the deduction of: (i) an average annual asset management fee of 0.81%; and (ii) estimated transaction fees and other expenses that a client would experience. The results portrayed reflect the reinvestment of dividends, interest and other income, as appropriate. Backtested performance results assume weekly rebalancing at the end of each week. It is important to understand that the assumption of weekly rebalancing has an impact on the annual and weekly returns shown. For weekly rebalancing, the weekly return is calculated with the assumption that the portfolio is perfectly in balance at the beginning of each week. In actual portfolios, however, rebalancing occurs at no set time, and such actions are dependent on both market conditions and individual client liquidity inflows and outflows, along with the cost impact of such transactions on the overall portfolio. As with any investment strategy, there is potential for profit as well as the possibility of loss. CCM does not guarantee any minimum level of investment performance or the success of any client account, model portfolio, or investment strategy. All investments involve risk and investment recommendations will not always be profitable. Past performance does not guarantee future results. Backtested results do not guarantee future results. Results are compared to the performance of the S&P 500 Index ETF (SPY) for informational purposes only. The Adviser�s investment program does not mirror the S&P 500 Index and the volatility of the Adviser�s investment program may be materially different. The securities or other instruments included in the S&P 500 Index are not necessarily included in the Adviser�s portfolio and criteria for inclusion in the S&P 500 Index are different than those for investment by the Adviser. The performance of the S&P 500 Index ETF was obtained from published sources believed to be reliable, but which are not warranted as to accuracy or completeness. Unless noted otherwise, the returns of indices presented herein do not reflect fees or transaction costs, nor net dividends, if any. A description of each index follows: The S&P 500 Index, a diversified index that includes the stocks of 500 U.S. listed, large capitalization companies in major industries. All references to SPY are to the total return form of the ETF. Past performance, including hypothetical past performance, is not indicative of future performance. There can be no assurance that the Adviser will achieve its objectives. Any performance information, market analysis or data or other information is not warranted by Ciovacco Capital Management, LLC (CCM or Ciovacco Capital) as to completeness or accuracy express or implied, and such information is subject to change without notice. CCM�s investment strategies may change from time to time based on market condition and enhancements to its investment methods and strategy without further notice. This website and the information contained herein are for informational purposes only and do not constitute a complete description of our investment services, funds or strategies. The data in this website have been prepared by CCM and have not been reviewed, compiled or audited by an independent public accountant. The views expressed on this website represent the current, good faith views of the authors at the time of publication. Please be aware that these views are subject to change at any time and without notice of any kind. CCM assumes no duty and does not undertake to update these views or any forward-looking statements, which are subject to numerous assumptions, risks, and uncertainties, which change over time. All material presented herein is believed to be reliable but we cannot attest to its accuracy. The information contained herein (including historical prices or values) has been obtained from sources that Ciovacco Capital Management (CCM) considers to be reliable; however, CCM makes no representation as to, or accepts any responsibility or liability for, the accuracy or completeness of the information contained herein or any decision made or action taken by you or any third party in reliance upon the data. Some results are derived using historical estimations from available data. Readers are urged to check with tax advisors before making any investment decisions. This memorandum is not an offer to buy or sell or a solicitation of an offer to buy or sell the securities mentioned. The investments discussed or recommended in this report may be unsuitable for investors depending on their specific investment objectives and financial position. The price or value of the investments to which this report relates, either directly or indirectly, may fall or rise against the interest of investors. All prices and yields contained in this report are subject to change without notice. This information is based on hypothetical assumptions and is intended for illustrative purposes only. PAST PERFORMANCE DOES NOT GUARANTEE FUTURE RESULTS.